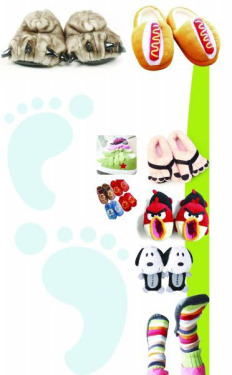 As soon as we get to the winter, we like to wear slippers that are warm and comfortable. The feet are warm and the people feel comfortable. If you feel bored in your home life and want to inject fresh elements, take a look at some of the best selling slippers on the Internet! A good slippers must be both warm and innovative, and the "tidal people" have every reason to reject the plain, stereotyped supermarket section. This winter, many creative slippers are introduced on the Internet, such as bread slippers, which can almost be seen as real ones, watching people drooling; socks and slippers, others looked at thought that you only wore socks; wife husband slippers, warm and sweet, there is a good, on the number , Slippers will not mess with chaos! There are USB heating slippers, about 10 minutes can be raised to 37 degrees, maintain a constant temperature, especially for cold crush and small basin friends ... ...
A funny style for the influx of people, the slippers must be strange enough, the best one can not look like a pair of slippers, to reach the "shoes" is not amazing dead. Xiao Bian has collected some of the funny hot slippers on the Internet to see which one is the best for you?
Bread slippers 瞧瞧 this cute pair of slippers! Fresh crisp yellow, dark sesame seeds, tempting hot dogs. Ingeniously, they really have ventilation vent designs, and even the soles have non-slip lines to follow! Let's take a look at how the advertising words are said, "Reach your feet a little romantic! After a dry season, feel very comfortable, and the slippers will not sink." Do you want to swiftly eat a mouthful? Does it, or even want to be violently "dressed" with it, to make friends envy it? This slipper does look like a pull, but as a gift, it is quite creative!
Sock Slippers If one day you find someone wearing socks and walking on the floor, do not doubt that other people have mental problems. They are wearing new socks and slippers this year, using a creative design of slippers and socks. The entire upper is composed of knitted socks of various colors, and is equipped with a non-slip PVC sole. It is warm and comfortable to wear and full of childlike pleasure.
Big feet, slippers, fleshy feet, black nails, flip flops, wow, this foot should belong to a large monster. Is this big pedal cotton drag very funny? Wearing domineering on the feet is the focus. Men's models are black flip flops, women's models are pink, buy a couple models wearing, two monsters come!
Angry birds "eat feet" slippers at first glance, Xiao Bian was to Meng, good like Oh. Put your feet in the mouth of angry birds and give them stinky feet. Is your foot enough?
Unique creative, very fun, send friends as gifts is also quite handy, because this is too personal and too adorable.
B new functional slippers can heat it? This is real. Designers have found inspiration from the hot USB hand warmers and warm water cups of the past few years and invented this USB heated slippers. This year's slippers are innovative, with canvas shoes, fresh enough?
USB warm feet slippers cold crush are hated winter, at home to watch TV or read the Internet, ** time is slightly longer, the feet are cold and easy to get frostbite. This winter is not afraid, this slippers have a heating function, plug in the USB interface, 3 minutes to reach 37 degrees Celsius, 10 minutes to complete the entire temperature increase process, the temperature reaches the maximum temperature of 45-50 °C, after the completion of heating, it is always maintained at this temperature, without Worry about being hot. The design of the slippers covers the entire foot and ankle, and the entire foot feels warm.
Canvas shoes slippers This is slippers? It's like Converse canvas shoes! Retro star classic sports warm slippers, absolutely enough tide Oh! This is a new style this winter. The style is unique. The hipster will fall in love with it. Velcro shoelaces can be adjusted. Wearing this slippers at home, others thought you were wearing canvas shoes.
C Parent-child families have children, may wish to buy some cartoon cute slippers, wear with your child, exaggerated cute you can control. Look for some inspiration from the cartoons and movies that children love to watch. For example, the orangutan slippers recommended by Xiao Bian are the sculptural styles of the American blockbuster "The Rise of the Pompeii".
**Slippers have big **Worry about cold feet? Although there will usually be a little bulky walk, it is appropriate to sit on the sofa while watching TV. The child is also very cute to wear, and it can be used as a house prop.
No one can reject Snoopy's cute Snoopy slippers. This cartoon puppy has been popular all over the world since its birth and has a large number of fans. This winter, wear cute Snoopy on the feet, soft and warm, visible head, to add a little childish to the plain life.
D Warm family series Winter slippers for the whole family are ready? Every family member should have an exclusive slippers and use slippers to express your love.
Husband slippers printed husband and wife "wife," the word slippers, very unique and warm, big red embroidery auspicious and festive, suitable for newlywed couple, put on exclusive slippers, feeling close to the heart. In addition to her husband's slippers, there is an exclusive payment for parents. Love does not need language, warm to send their parents, 3 cm thick blowing soles, non-slip does not hurt the floor, hand-line firm, thick fluff more warm, stylish embroidered apple implies peace. It is said that there is also a good thing. On the number one, home slippers will not be used indiscriminately.
Fenghua Jade Motor Co., Ltd. , http://www.nbeveningdress.com