With economic development, women's aesthetic concepts and further improvement in consumer spending, female consumers not only to the underwear as a personal accessories, but a temperament, personality, fashion and objects to treat. Nowadays, as women consumers study underwear or bras more professionally and are more and more shopping, this presents challenges and opportunities for underwear companies.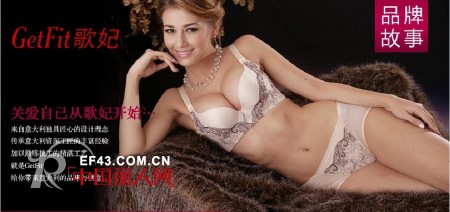 With the increasingly fierce competition in the underwear industry, Love yarn as a rising star in the field of underwear, in addition to the traditional channels of sticking to and slipping, but also actively explore new sales channels, in August 2011 settled in Taobao, is E-commerce allows Love yarn brand awareness continues to improve, online sales continue to refresh, significantly increase market share, the Internet-based marketing platform has been welcomed by many female consumers and favor. Recently, e-commerce marketing for underwear business, the reporter had the honor to interview busy schedule Love Zou International Chairman Zou Jifu.
Zou told reporters, Love yarn very early on e-commerce is very concerned, but underwear and other goods are not the same, because underwear or bra is a feminine personal accessories, must personally experience in the store to know if it is appropriate, so Love yarn into the electronics Business is just a supplement to other sales channels, but it also gives us a big shock. Because Love yarn-GetFit Taobao official flagship store is staying in Taobao in August 2011, coincides with the 2011 first "most concerned about the fall and winter clothing network selection activities" from September 1 onwards, which is involved in online voting users is a Very good chance, because they can better understand the love yarn brand from Love yarn -GetFit Taobao official flagship store to enhance perceptual awareness of the brand, through customer evaluation to grasp whether it should vote. The good news is that we submitted to adjust the underwear - Love yarn Baby 1522 high ticket into the third place underwear, which is the benefits of e-commerce to us, but we are also encouraged, because the customer's Love is the motivation of our future. In the future, we will further increase the types of products, improve service quality, to explore a new model of e-commerce + store + franchise + counter sales, take the characteristics of underwear lingerie development.
It is understood that Love yarn underwear settled in Taobao, the number of orders or consultants per day more than 2,000 people, and this number is still rising. At present, there are many underwear enterprises are eager to join the e-commerce, but so far unpaid action, still hesitating, wandering. So the success of Love yarn touch the net, is it going to be some inspiration for those underwear business? Ma Yun, chairman of Alibaba Group Board said that in the future either e-commerce, or business-minded. Please be convinced that e-commerce is a social progress, the trend of business development and an inevitable choice.
Our Acrylic Horseshoe Ring & Twister Ring is good in quality and competitive in price. We are manufacturer and supplier of Acrylic Horseshoe Ring & Twister Ring following your specific requirement. We are looking forward to your E-mail and establishing cooperative relationship with you! We would provide professional Acrylic Horseshoe Ring & Twister Ring with good services for you!
Acrylic Horseshoe Ring & Twister Ring
Acrylic Horseshoe Ring,Acrylic Twister Ring,Surgical Steel Beads
Yiwu Zelin E-commerce Firm , http://www.zelinpiercing.com